About the System
This directive includes explanations about the transactions that our University students can perform through the Student Information System, the System Login process and the System Menu.
In order to log in to ITU Student Information System, the "SIS Login" link on https://www.sis.itu.edu.tr/EN/ will direct you to the ITU Login page for the first step of the two-step identity security check.

You must enter your ITU Account user name and password in the Username and Password sections on the ITU Login page. This information is the definitions used for E-mail (https://webmail.itu.edu.tr/) and Portal (https://portal.itu.edu.tr). ITU user accounts are only given by ITU Information Technologies Directorate.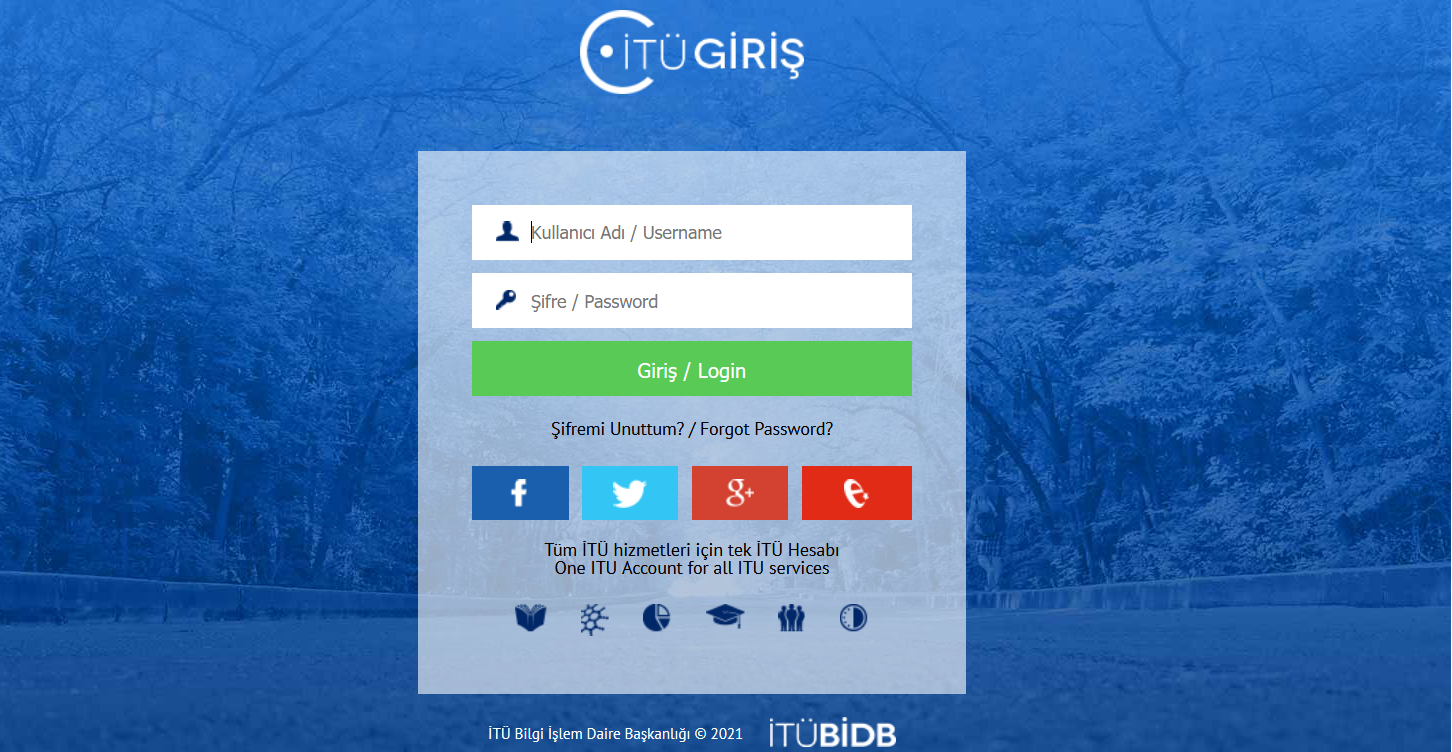 In the second stage after logging in, your users (Student Number(s)) in the Student Information System will be viewed in the User ID field. You can log in to Student Information System by selecting the user you want to log in, typing the password of this user in the PIN field and clicking the Login button. If you do not remember your password (PIN) at this stage, by logging in with your ITU user information from the link http://yardim.itu.edu.tr/ you need to create a help ticket by following the steps "Registrar's Office> PIN transactions> Forgot PIN password". PIN password is only given by the Registrar's Office.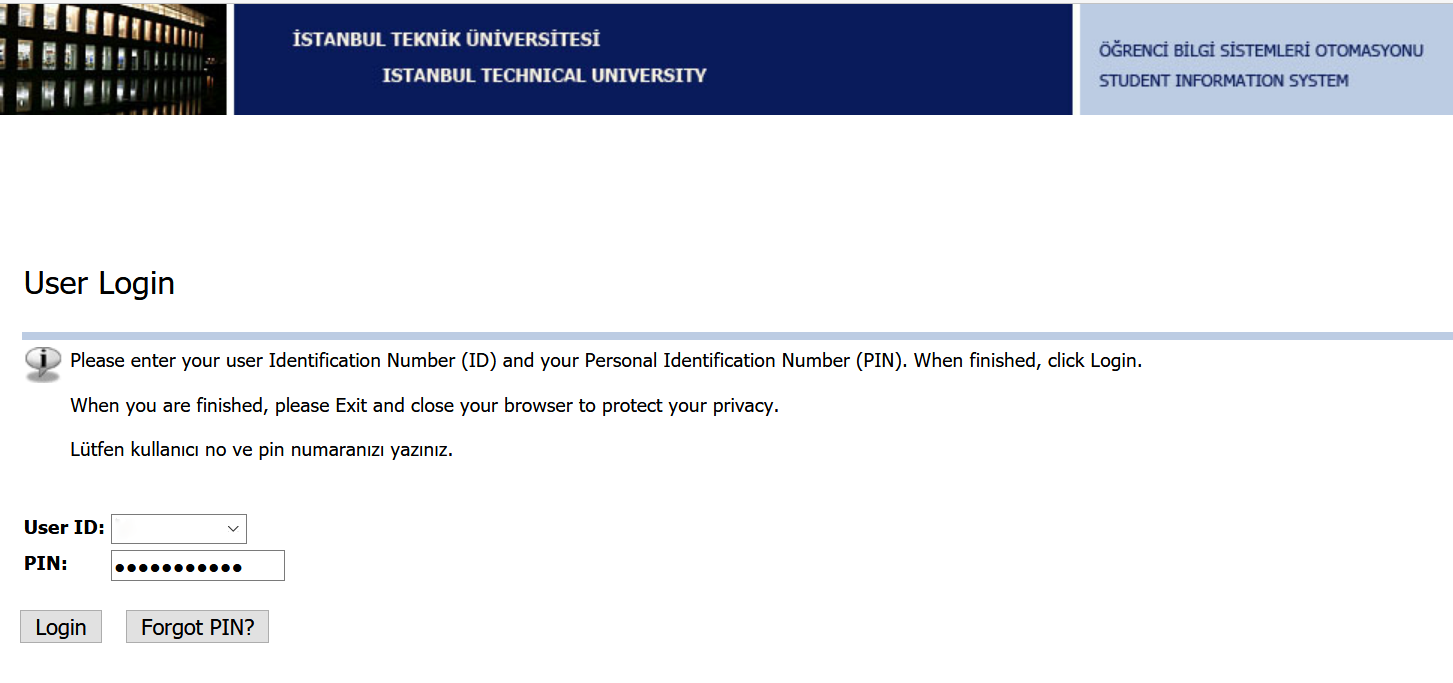 After the login process is completed, the transaction menu will appear. On the screen that appears, you will find the opportunity to benefit from the service we offer by reaching the relevant screens within the scope of your authorization in the Information System. Detailed explanations for Personal Information and Student Service connections are as follows.
PERSONAL INFORMATION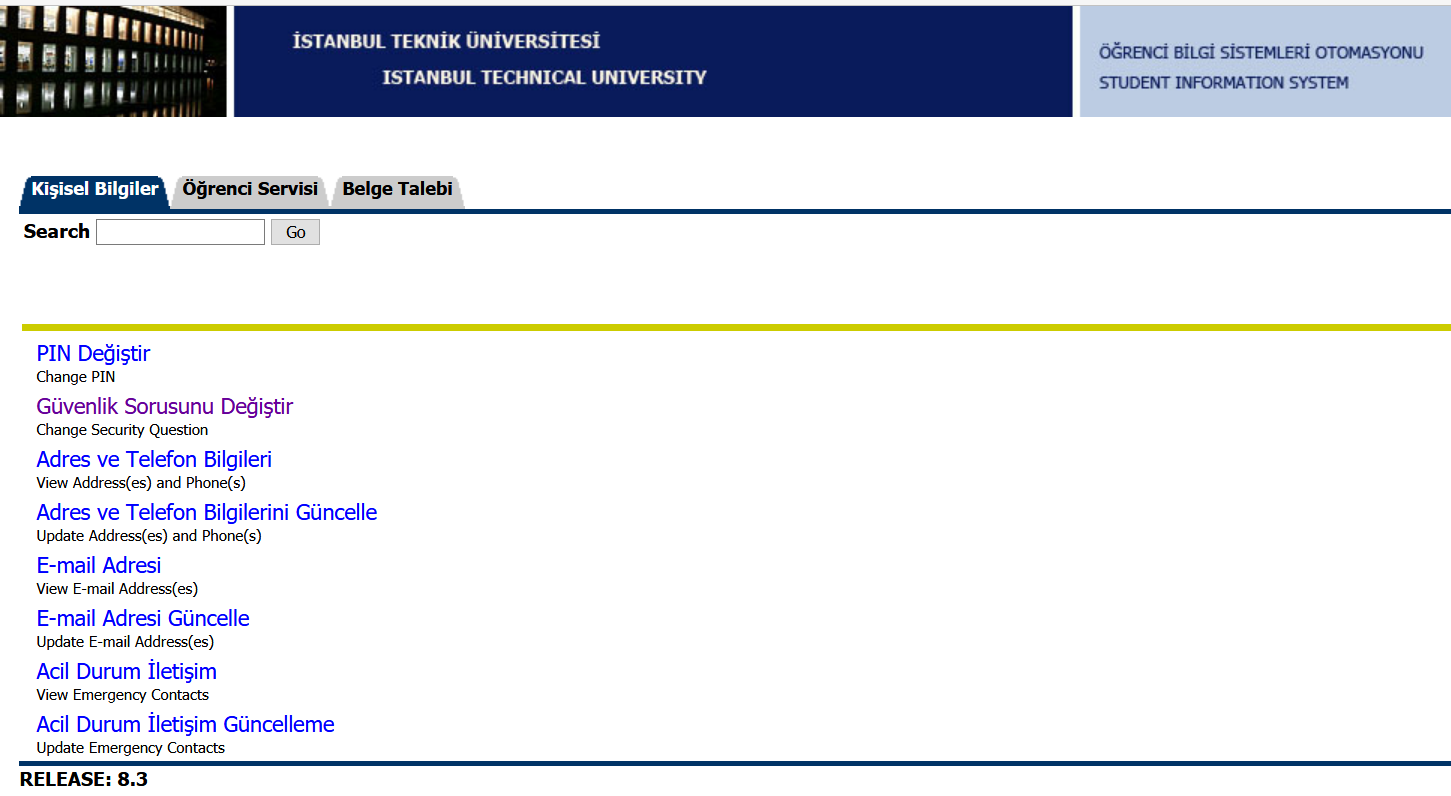 Change PIN
Change Security Question
View Address and Phone
Update Address and Phone
View E-mail Address
Update E-mail Address
View Emergency Contacts
Update Emergency Contacts
STUDENT SERVICE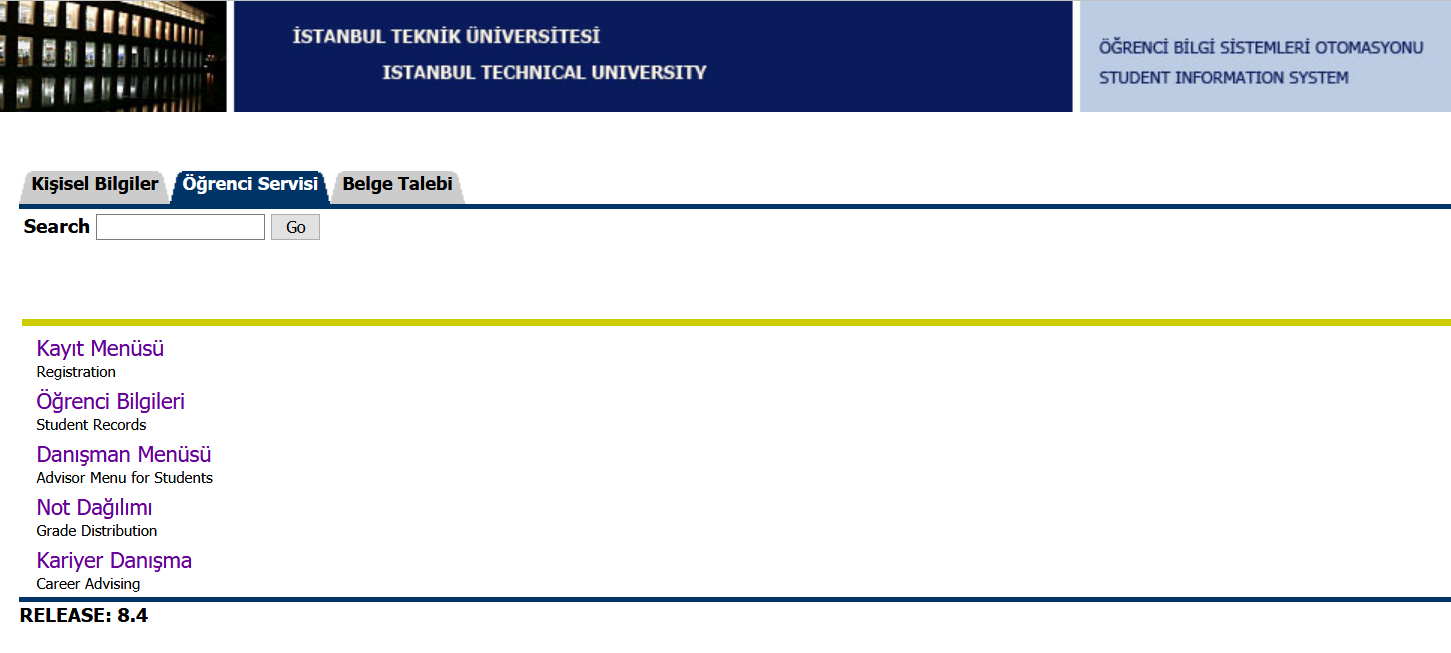 REGISTRATION
Select Term
Add/Drop Classes #The link where course registration and add/drop is done during course registration and add/drop week
Student Schedule by Day & Time #The link where you can view your weekly course schedule
Check Your Registration Status #When you select the relevant term
The date and time information you can register for a course
Information about the status (Hold) information in the system which blocks course registration
Information about your Academic Status (Maximum credit number changes according to this status)
Completed credit information
Information about your department/faculty
VF List #The list of students who cannot take the final exam
Registered Courses #You can view your registered courses
Final Exam Schedule #Date, location and time information for end-of-semester exams
STUDENT RECORDS
Dönem Notları (Final Grades) #You can view your semesterly grades.
Account Summary by Term)#The information about the amount of tuition fee required to be paid, if any / Check before the registration week.
Transcript #You can view your unofficial transcript
Unofficial Transcript (English) #You can view your unofficial English transcript
Internship Information #You can access your internship information
Graduation Project Record #You can view graduation project records
Graduation Check **Trial Version** #Trial version. Please check your courses from your course schedule and transcrit. For your GPA, consider only your transcript. Graduation Check Program is still under development
ADVISOR MENU FOR STUDENTS
Advisor Information #You can view your advisor information
Weekly Plan for Advisors #You can view your weekly plan with your advisor
Advisor Approval Form
Academic Advising Attendance Sheet #You can view your Academic Advising Attendance Sheet
GRADE DISTRIBUTION
You can Access the grade distributions of the courses registered in previous terms.